In August 2020, with my employer Neos Group, I animated a webinar on data governance. For those who want to listen to it in full, go to the bottom of the article. The goal is to summarize the essence of this video. 
I always like to start with good foundations, so let's start with a definition of data governance: 
It is a set of practices and principles that ensures the quality of the entire data life cycle. 
The important point to remember is that we want to improve the quality of the data process (e.g. how data is managed) as well as the quality of data itself. 
Why is it important 
Now that we know more about data governance, let's take a look at why you should pay attention and allocate resources to improve it: 
I
ncrease in the quantity and variety of 
data
Because the amount and variety of data processed is greater than ever before. To give you an idea, it is estimated that in 2020, 1.7 MB of data is created every second for every person on Earth (Source: Domo report 2018). That's gigantic! The variety is also important, now the data does not always appear in a structured way. We analyze data from social networks, emails or our application logs. 
Regulation
As a company that collects sensitive data, we want to make sure that these data are protected. In recent years, various governments have implemented several regulations on the protection of personal data (e.g. PIPEDA, GDPR) or on the certification of financial data (e.g. SoX, Bill C-198). Failure to comply with these regulations leads to a bad image of your company as well as financial penalties.  
Data interpretation
Finally, the company needs to use data as an asset to transform it into information and it needs to be able to capitalize on the data and its value. Good data governance allows for a better understanding of the beginning-to-end data path, because it is very rare that data is used in its raw form, it is filtered, aggregated, and blended with other sources. 
The Maturity model 
To properly assess your company's progress in terms of data governance, you can use the following model. It allows you to assess your maturity and you can show your evolution. It is possible that your company has traits that are part of several different levels. The next sections of the article will detail each level.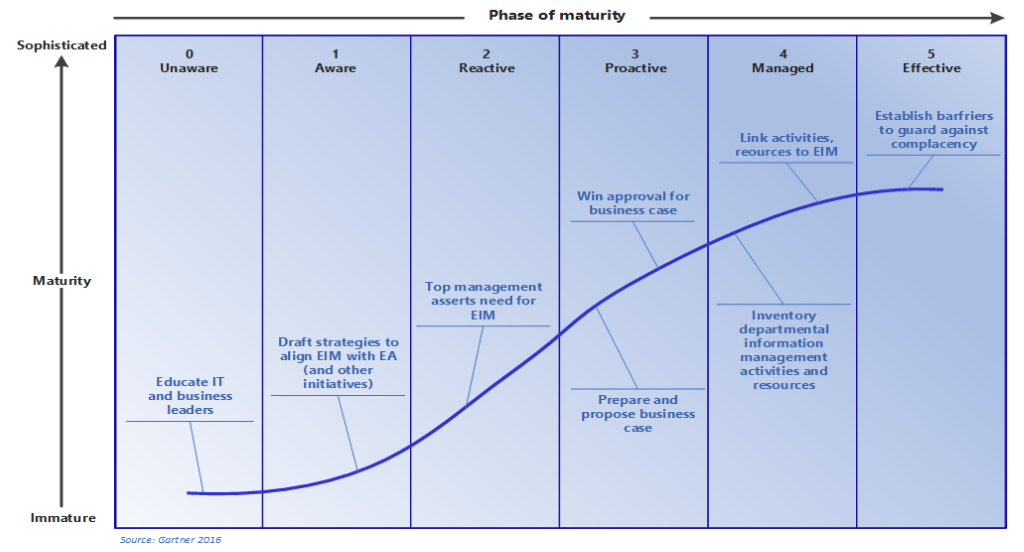 Level 0 – Unaware  
At this level, the company has little, or no data governance processes. It is often a personal initiative. Someone in the company wants to start the initiative and sell it to the company. At this stage, it is important to determine why a data governance strategy should be adopted. Asking the question makes it easier to promote the project to executives. Here are some examples of objectives: 
Compliance with legal standards, strong attention to security and data governance

 

Use data to improve decision making by increasing the level of confidence in the information used (Data Quality)

 

Improve the operational efficiency of the 

company

 
Level 1 – Aware
At Level 1, the company realizes the importance of good data governance. Problems are starting to become more noticeable and there is a desire to address them. At this stage, we need to start our business case with the reasons established in step 0 and the benefits we want to obtain through this initiative, here are some examples: 
Better understand your data (

e.g.

 where it comes from, what transformations are performed)

 

Improving data quality

 

Facilitate data 

management

 

Making the actors who own the data 

responsible
Level 2 – Reactive
At this stage, we begin to execute our strategy and the resources and executive support are following suit. One of the interesting things at this point is that we start to have some governance rules, but these can be ignored when there are problems or emergencies. The company is also starting to have some practices in place, such as: 
Data Discovery and 

 categorization

: Having an inventory of the organization's data to facilitate data retrieval and training new resources.

 

Metadata 

Inventory and 

Management

: This is the data we have about data. There are two types, business and technical. Technical Metadata is the documentation of tables, fields, data types, transformations are performed. The business Metadata are the definitions and use of the data.

 
Level 3 – Proactive
We're getting into an important level, data governance is being taken seriously and we're seeing more benefits. We're seeing a big decrease in operational risk. The company is meeting the regulatory requirements and beyond. They are successfully implementing governance within their internal projects. Security is no longer a reflection that you do when the project is close to delivery. Roles and responsibilities in terms of governance are very clear at this level.  
Level 4 – Managed
At Level 4, the company wants to keep up the momentum and efforts to remain constant. That's why data governance is a process, not a project, the company must always strive to improve. In order to improve, at this stage, the organization must assess itself, by integrating performance indicators such as service level agreements (SLAs) on the quality of the data presented to users.  
Level 5 – Effective
At level 5, we're at the very top. The company has achieved the goals set by the data governance strategy. It uses data as a competitive advantage and does not hesitate to compare itself to its competitors. It is a Data Driven company that believes in data and has a serious policy for its management and use.    
Roles and responsibilities 
In data governance, there are 3 levels of roles and responsibilities, which are in line with the levels at which they must intervene. The next image illustrates this idea.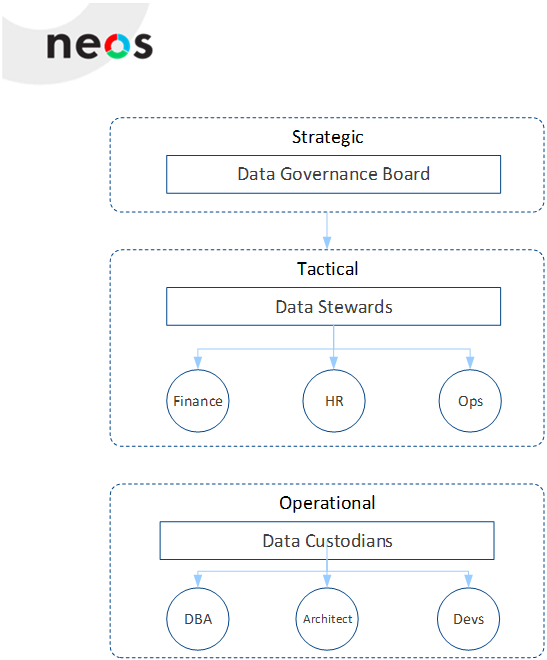 Let's look at each role in details: 
Data Governance Board

:

 This board is responsible for the evolution of the data governance strategy. Members meet periodically to discuss data issues. The group is 

heterogeneous

 

and includes people with different roles to give legitimacy to the board through executive presence and information on the issues encountered every day through the addition of people close to operations levels.

 

Data Steward

:

 They are responsible for the quality and definition of the data. The key to this role is for the person to be part of the business and to be an expert in his/her field.

 

Data Custodians

: 

These are the technical people (developers, analysts, database administrators) who access and operate your data. They are responsible for transporting, storing 

data

 and implementing business rules.

 
Conclusion 
I hope this article has taught you more about data governance and makes you want to know even more. I invite you to view the entire webinar where I also discuss interesting technologies on the market and answer participants' questions. 
If you need assistance in developing your data governance strategy, contact us at Neos Group, it would be our pleasure to give you a helping hand.